May 15, 2023
Remembering Jonathan Sugarman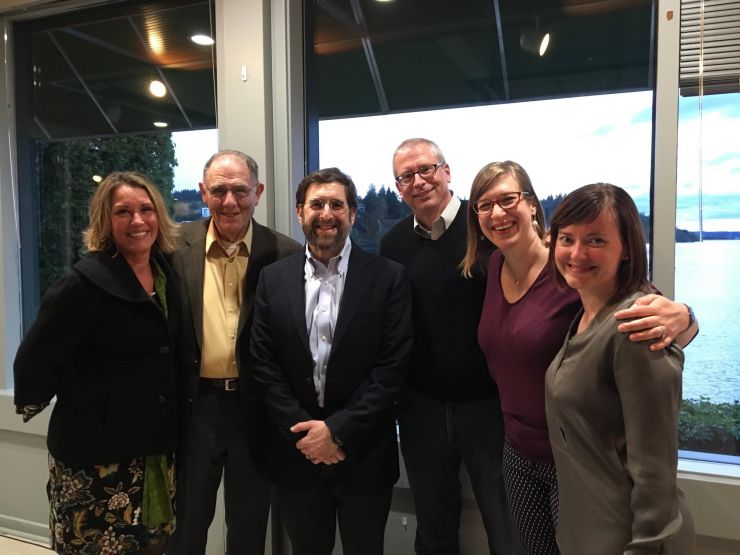 Jonathan Sugarman, MD (center) pictured with Nicole VanBorkulo, Ed Wagner, Brian Austin, Katie Coleman, and Kathryn Phillips (l-r).
A note from ACT Center co-director Katie Coleman, MSPH on the passing of ACT Center collaborator and her friend and mentor, Jonathan Sugarman, MD.
By now, many of you may have heard the sad news that Jonathan Sugarman, MD passed away on May 1 while attempting to summit Mt. Everest. The news is shocking and hard to process, but in the last several years he had leaned into high-altitude climbing with a drive and passion that typified who he was. I firmly believe that Jonathan died doing what he loved.
Much has been written that rightly focuses on his intellect and training and influence, but for those of you who knew of Jonathan but didn't get a chance to know him deeply, I wanted to share a bit about our organizational and my personal relationship with him.
A longtime collaborator
Jonathan was a mover and shaker, leveraging what he learned to impact primary care nationally through a vast network of funders, academics, policymakers, and quality improvement folks.
Jonathan was a longtime collaborator with KPHWRI, especially Ed Wagner and the team at the MacColl Center, now the Center for Accelerating Care Transformation (ACT Center). As the CEO of Qualis Health (now Comagine Health, our state quality improvement organization), Jonathan worked with Ed and with the state of Washington to design and deliver the first Health Disparities Collaboratives in the nation for primary care practices to adopt the Chronic Care Model in the early 2000s. Those Collaboratives continued for more than 15 years in Washington state, touching thousands of practices and covering a wide variety of chronic conditions. It is no overstatement to say they improved the lives of many, many people living with chronic disease.
Around 2010, we partnered again on another ambitious project to support practices to improve care – the Safety Net Medical Home Initiative. That project supported 65 safety-net practices in 5 states to improve health and reduce disparities for their patients. I had the privilege to partner with Jonathan and his team (including Nicole Van Borkulo, Kathryn Phillips, Bre Holt, and Ginny Weir, whom many of you may know now from other roles) for many years on that initiative and its subsequent project, Coach Medical Home. That project generated tools and resources that continue to be used nationally.
A committed advocate for the safety net and primary care
Jonathan was a physician and skilled leader with a deep commitment to championing marginalized and underserved people and communities.
Throughout his career, Jonathan practiced at the Seattle Indian Health Board, seeing patients while running Qualis Health. This practical, daily experience of delivering care to patients was always at the forefront of his thinking and work. After retiring from Qualis, he took his passion and commitment to underserved communities to a small non-profit called Global to Local. He reached out, leveraging his vast national network of connections, to bring expertise and funding to the immigrant and refugee community in SeaTac, one of the most diverse areas in Washington. I loved getting to see him in this new role and served on an advisory board he put together there.
A mentor and a friend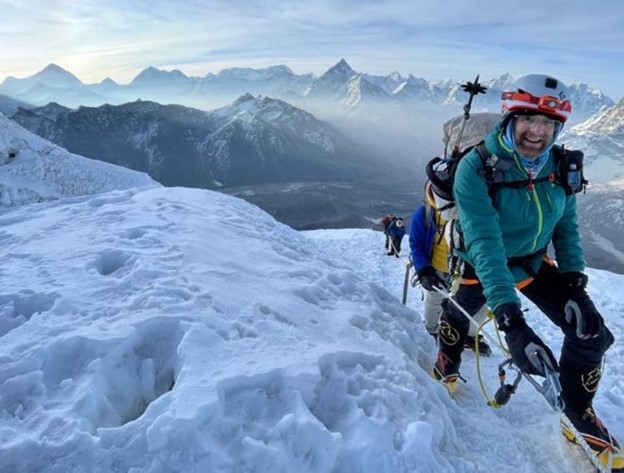 Jonathan was a social and connecting person. He was always earnest and forthright. Jonathan valued knowing people, building community, and connecting people across time and space in service of improving primary care. Though he liked to relate, he was never inauthentic. He called it as he saw it – giving advice like, "Make sure the credit you receive for a project is in proportion to the work you're putting in." He was a frank, pragmatic, and open mentor and a tremendous friend. I'll never forget the time he drove across town to attend my first baby shower, eating cake and talking about baby strollers with all of us.
I know many of you have your own experiences with Jonathan through the University of Washington, where he was a clinical professor, or from the Global Health Alliance, where he volunteered. I hope we can share stories with one another as we process the news.
I am feeling so grateful to have such wonderful and impactful colleagues like Jonathan and each of you. I will miss Jonathan and his partnership and mentorship!
His obituary is available online and memories or well wishes can be shared with his family there.