ACT Center Newsletter
The ACT Center shares new findings, resources, and stories in our free quarterly newsletter. You can sign up to receive our newsletter here and view featured content from our most recent issue below and in the sidebar. PDFs of our past issues are also available on this page.
---
Winter 2023 Newsletter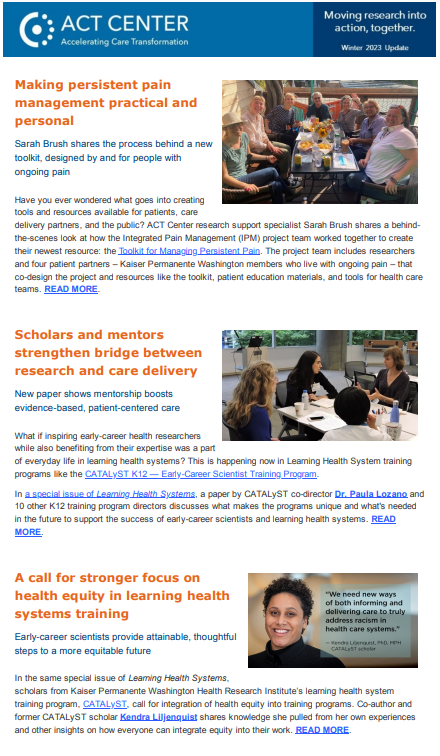 Making persistent pain management practical and personal
Sarah Brush shares the process behind the ACT Center's new Toolkit for Managing Persistent Pain, designed by and for people with ongoing pain.
A call for stronger focus on health equity in learning health systems training
Early-career scientists provide attainable, thoughtful steps to a more equitable future.
ACT Anecdotes: Emily Westbrook was born to do this
Our new series, ACT Anecdotes, introduces you to an ACT Center team member through a Q&A. Each quarterly update will include a short and informative introduction to a staff member. Up first: Emily Westbrook.
---
Past Newsletters
Fall 2022
Integrating adolescent mental health into primary care, why we need practice facilitators more than ever, new website resources, and more.
Summer 2022
Patient and family engagement, clinical innovation opportunities for family practice residents, reducing missed visits with predictive analytics, and more.
Spring 2022
Transforming behavioral health services in Oregon, patient-centered care to improve opioid safety for people with persistent pain, new findings and resources to advance social health, and more.
---
Previous newsletters from the MacColl Center for Health Care Innovation