October 28, 2020
LHS Program welcomes Dr. Kat Barnes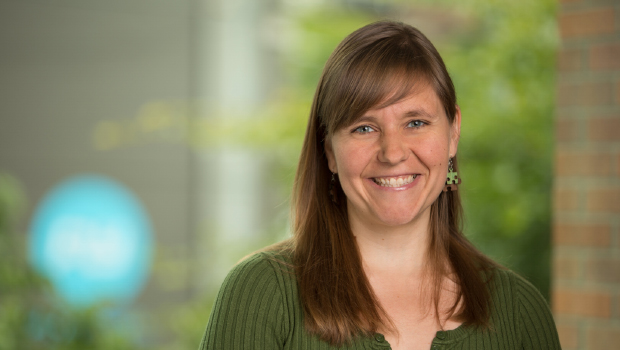 KP Washington family doc joins our Learning Health System Program to help identify and spread best practices.
Kaiser Permanente Washington Family Physician Kat Barnes, MD, recently joined the core team of the organization's Learning Health System (LHS) Program. Established in 2017, the LHS Program brings research and care delivery together to rapidly spread best practices to benefit our members, care teams, and communities. Dr. Barnes brings expertise in health equity, quality improvement, and implementation of best practices—as well as first-hand knowledge of the challenges our members and primary care teams are facing today. In this Q&A, we talked with her about some of these challenges and why she's motivated to address them through the LHS Program.
Can you tell us why you wanted to be part of the LHS Program?
What attracted me to the LHS Program is my understanding of its purpose. In medicine, whether it's clinical practice or operational practice, we often talk about how there's a long delay in knowing what the best thing is to do and actually doing it. The LHS Program is a nimble arm of our research institute that is charged with taking the current problems facing our care delivery system and helping us rapidly learn how to make best practice a reality.
The LHS Program helps us understand the current evidence—what's known and what's cutting edge—and how to take that information and apply it to our KP clinical context. How do we implement a best practice? How do we spread it? And then how do we study it to know that it's solving the problem that it was originally intended to solve? These are all essential questions the LHS Program is equipped to answer.
For me personally, it's great to find a role that is at the nexus of my interests. In addition to practicing clinical medicine, my background research interest has always been focused on operational questions about how we identify best practices and then work together to transform care. Seeing first-hand the challenges that our system faces and that our patients face in the day-to-day makes me excited to be part of a program that exists specifically to address those challenges.
What are some examples of how the LHS Program is helping KP Washington address the challenges we're facing today?
The LHS Program has done some great things to support our rapid response to COVID-19. Using predictive analytics, the LHS Program has guided KP Washington in reaching out proactively to our most vulnerable members to ensure they were getting their care needs and other social needs met during the pandemic. LHS Program scientists at the research institute are also monitoring new COVID-19 research findings every day and helping our health plan and care delivery leaders sift through and understand the huge volume of research findings that are coming out every day about coronavirus spread, prevention, and treatment.
Another example is the LHS Integrated Pain Management (IPM) pilot, which is the first big project I'll be working on in my new role. The goal of the IPM is to develop, test, and spread a whole-person approach to chronic pain treatment that gives our members safe alternatives to opioids. I know from experience that supporting patients in safely and effectively managing chronic pain can be time-consuming and difficult—and that primary care teams need a better approach.
So I'm thrilled to be working side by side with care teams at the 3 medical centers in our Tahoma District (Puyallup, Steele Street, and Tacoma)—and with a Patient Partner group—to design and implement the IPM program. My role on the project will include representing insights from the provider perspective on the challenges and nuances of treating chronic pain, as well as to contribute clinical expertise to the tools and resources that will make up the IPM program such as non-opioid pain management algorithms.
What motivated you to take on this work right now?
I think this work is more essential than ever when we're facing tighter financial and practical constraints than we have in the past. In a crisis, the LHS Program is even more valuable because it helps us pick the best strategy among a set of options that all have limits and are going to require sacrifices. But through the LHS, we can ensure that we're picking the best option of the ones we have.
What else would you want your colleagues and your patients to know about the LHS Program?
For my colleagues, I recognize that we're all feeling wariness and fatigue around change. But we know that change is a given right now. And when you have to face change no matter what, you want someone on your team who understands the individual context of your patients and your clinic. You want someone who is steeped in the in the reality of our health system and who also has the expertise to identify and help implement the best practice in our present situation. The LHS Program provides that.
For my patients, I would say that the biggest thing that the LHS Program does really well is to authentically incorporate the patient voice. LHS projects give our patients' perspectives equal if not greater footing, and I think that is quite unique in medicine. While everybody comes from a place of wanting to do the best thing for our patients, actually stopping forward momentum and asking patients what they think is a step that is too frequently skipped. I'm excited to learn from the patients who are collaborating with us on the IPM pilot, and I'm grateful to the LHS Program for launching a Patient Partner group and making them an essential part of our team.
Content adapted from a story published by Washington Permanente Medical Group.