May 11, 2023
ACT Anecdote
Claire Allen brings fairness and excitement to her work in research implementation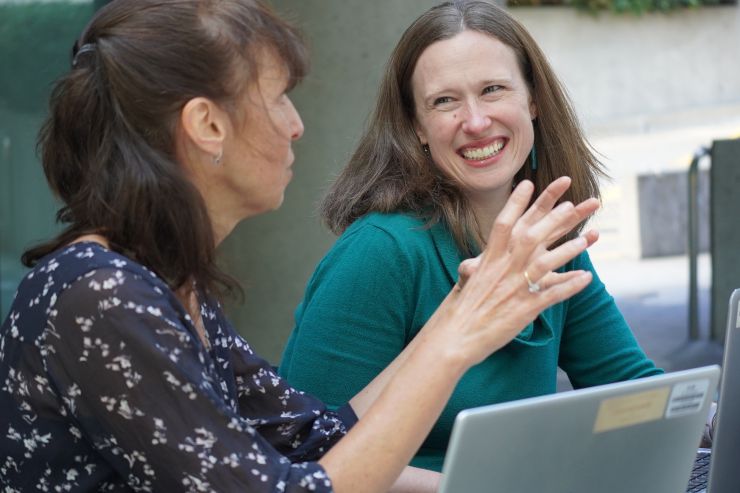 Claire Allen (r) discusses implementation science with ACT Center co-director Paula Lozano.
Our series, ACT Anecdotes, introduces you to the people of the Center for Accelerating Care Transformation (ACT Center) through a Q&A that explores the anecdotes of their life, both at work and at home. Each quarterly update will include a short and informative introduction to a team member. Up now: Claire Allen!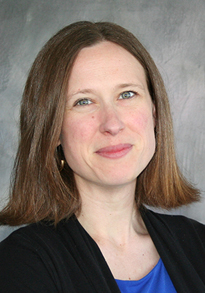 Collaborative science manager Claire Allen, MPH brings together research and care delivery to improve care for patients, families, and communities. Through the ACT Center, she designs, implements, and evaluates projects to improve patient care in health systems.
Claire lives on Vashon Island (just outside of West Seattle) with her partner, Adam, and their two kids, Elora and Liana. They love adventures of all kinds — particularly ones that include animals, water, outside play, and good food — and they're interested in any experience that is new.
What drew you to the ACT Center?
Claire Allen: I worked in health promotion research at the University of Washington and found I was impatient with the pace of research and the distance from real-world impact. To gain experience and do work with more direct impact, I moved to Swedish Health Services to work in the clinical quality division. There, I found the pace of change was so rapid that no one had time to plan, measure, or properly evaluate the work. The ACT Center, which applies research capabilities to improve clinical operations and patient care, is the perfect setting for me because it brings research, quality improvement, and operations together to improve patient care directly in health systems, while also advancing the learning health system field.
What drives you at work?
CA: I have an inner sense of fairness and compassion that drives me. I've had experiences as a caregiver of loved ones that were inequitable and painful within the US health care system. Because of this, I want to improve the way patients experience care, particularly patients who are impacted by structural and social systems that disadvantage or stigmatize them.
What work project are you most proud of?
CA: We recently submitted a grant to start a Learning Health System Embedded Scientist Training and Research Center which would extend our learning health system model into community health centers in Washington. We don't know if it will be funded yet, but I'm proud to have submitted the grant and to support the ACT Center in developing sustainable and productive partnerships in community settings.
What are you most proud of outside of work?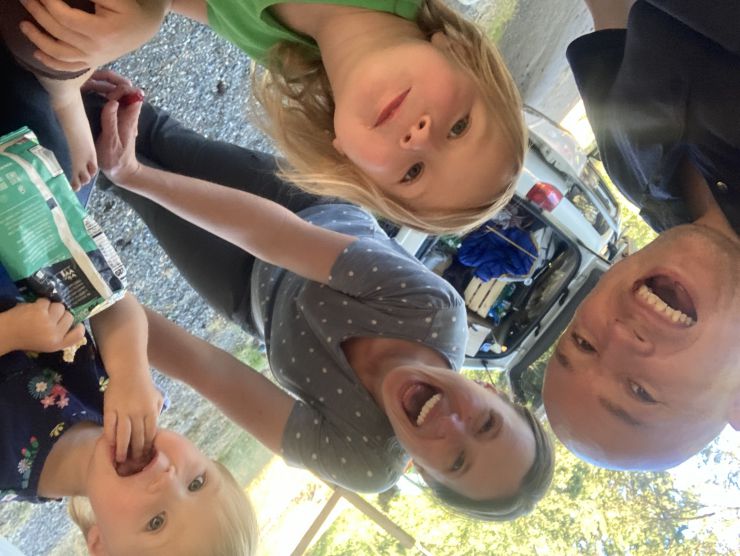 CA: My amazing babies, of course! My spunky kids are 2 and 5, and I'm so proud of everything they do (which is pretty much walk, talk, and sleep at this point, but it's amazing!). Yes, I might have a low bar when it comes to pride in them…
What are three things you enjoy doing outside of work?
CA: I like all new experiences, so we often live life in "theme months," where we pick a new topic and learn everything we can about that topic for one month. Next up is Space Month! But day to day, I'm enjoying finding sea glass with the kids, gardening, and discovering the quirks and wonders of Vashon.
When people think of the ACT Center, what do you want them to think?
CA: I would love to get to a place where people think we are relevant, equitable, innovative, and have an impact on improving health systems and people's experiences with care.