August 24, 2023
ACT Anecdote: Robert Kenawova Frazier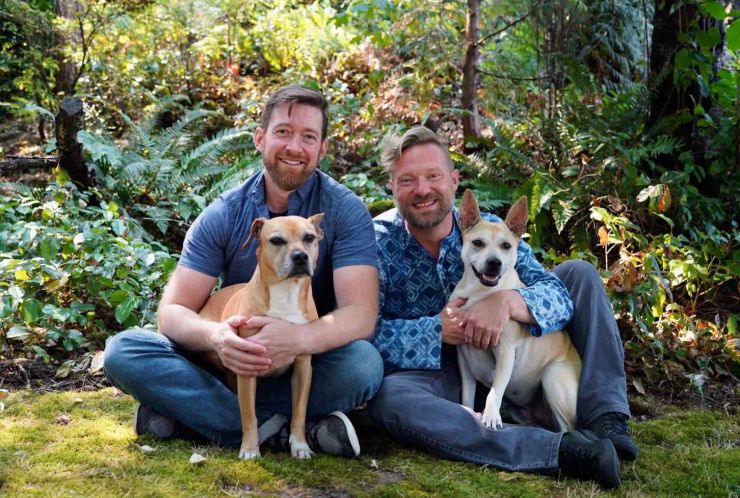 Robert with Bayda (right) & Ryan with Clementine (left) | Photo by Brandon Bussell
Leading from the side, Robert is the backbone of the ACT Center
Our series, ACT Anecdotes, introduces you to the people of the Center for Accelerating Care Transformation (ACT Center) through a Q&A that explores the anecdotes of their life, both at work and at home. Each quarterly update will include a short and informative introduction to a team member. Up now: Robert Frazier!
As a senior administrative research coordinator, Robert has been, in his words, "leading from the side" for more than 20 years. At the ACT Center, he does it all: from social media production to event and meeting logistics to budget reconciliation to managing the workflow for our directors. Robert even serves as the team's photographer and archivist. He is a miracle worker, ensuring that things are running smoothly and keeping the ACT Center organized. The true backbone of the ACT Center!
Robert lives under a canopy of conifers and maples in unincorporated Snohomish County with his husband, Ryan, a veterinarian, and their "critter kids": 2 shelter-rescued pitbull mixes, Clementine and Bayda; 2 stray cats, Palouse and Wapato; and a surrendered ball python named Patty. Robert lovingly refers to their home as "misfits coming together to create family."
What drew you to the ACT Center?
Growing up abroad I learned to think beyond the confines of my own culture to understand my surroundings and forge relationships. My capacity to quickly comprehend a new language – of a team or an organization – allows me to adapt to a setting, observe and record a problem, and communicate next steps with relative ease. ACT Center work often requires similar creative thinking and attracts people capable of looking at health care puzzles from new and different perspectives. Working with other individuals who share this skillset, and use it to serve their community, is where I find my joy at work.
What work project are you most proud of?
After successfully planning a Seattle-based event for the Delta Center for a Thriving Safety Net project, the team nominated me to help lift another convening off the ground at the funder's headquarters in Princeton, NJ. The location presented several unique challenges, including the movement of attendees from 10 states between 3 area sites, with the Robert Wood Johnson Foundation headquarters as the primary meeting venue. Putting all the elements in place for primary care associations to have cooperative conversations with their counterparts in behavioral health leveraged my experiences in meeting management and hospitality, while challenging me to grow my capacity for grace under pressure. I'm proud that my success speaks to the value I brought in drawing from experiences outside health care to deliver on complex expectations from leaders within it.
What are 3 things you enjoy doing outside of work?
Much of my free time is spent landscaping my yard and garden. I do it for myself, I do it for my dogs, I do it for my husband, I do it for my community. I think that one thing you can do as a landowner to help mitigate climate change is to steward the land beneath your feet.
Exploring and traveling with my husband (and our dogs and cats). When my husband and I decided to get pets, we recognized that we would be traveling with them. We've come up with clever ways to drive places and bring our pets with us. It's no more complicated than traveling with children. Our 11-year-old pack alpha, Clementine, has road-tripped to 15 states. When the pandemic hit, I realized that no matter where you live, you can find adventure if you want to. It can be 5 minutes from your house.
Physical wellness is more accessible to me now that I don't spend time commuting. I spend much of my time swimming and biking. Swimming is my therapy. It lets me leave all the things I need to do and focus on something good for myself, and I always come out feeling better.
What is something you are proud of outside of work?
I am proud of my relationship with my husband, Ryan. Relationships are never easy, especially when you live and work from the same space together. We just celebrated 10 years of marriage and have been together for 15 years. We've been through a lot: job changes, lots of loss, and we've experienced each other's vulnerabilities repeatedly and come to trust each other even more than when we were first married. We have both worked hard, and we are both better people because of it.
When people think of the ACT Center, what do you want them to think?
A succinct way to explain exactly what we do is: research to action.
We are also a bridge and a connector. In my opinion, the ACT Center is a key piece to the health care puzzle. You need something like the ACT Center to bridge the gap between research, care delivery, community health, and even silos existing within an organization like Kaiser Permanente. We work across these silos to ensure essential information is shared and communicated in an effective way.