September 20, 2022
Patient-centered perspectives on teen mental health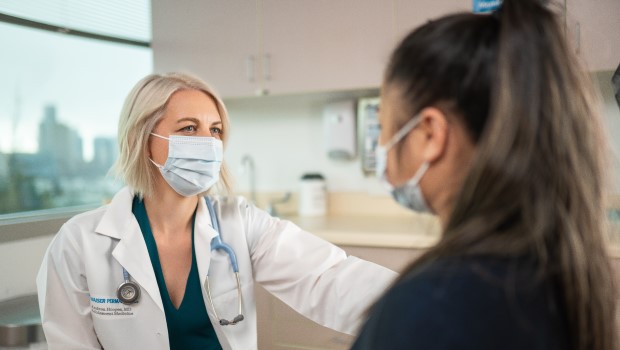 Dr. Annie Hoopes shares insights from a new ACT Center study on integrating adolescent mental health in primary care
A Q&A with Annie Hoopes, MD, MPH, an adolescent medicine specialist at Kaiser Permanente Washington and acting assistant investigator at Kaiser Permanente Washington Health Research Institute
How can health systems and care teams better support teen mental health? Focusing on patient and family priorities like engagement, communication, and privacy may be key.
These new findings from the Center for Accelerating Care Transformation (ACT Center) are based on the perspectives of teens, parents, and families at Kaiser Permanente Washington. Since 2019, ACT Center researchers have been partnering with Kaiser Permanente Washington care teams and members on the Adolescent Integrated Mental Health Pilot, which aims to design and test patient-centered ways to address teen mental health in primary care. An essential part of this work is engaging with teens and families to understand how they feel about mental health and substance use screening.
The ACT Center's new paper, published online in the Journal of Pediatric Health Care in August, explains design principles based on the perspectives of teens and families and offers suggestions for how health systems can apply these principles to better support teen mental health.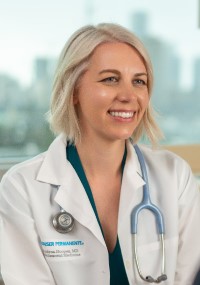 We talked with the paper's lead author, Annie Hoopes, MD, MPH, about the team's findings and the importance of understanding what adolescents need from health systems and care teams. Dr. Hoopes is a practicing adolescent medicine specialist at Kaiser Permanente Washington and a physician-researcher at Kaiser Permanente Washington Health Research Institute (KPWHRI), which is home to the ACT Center.
How the project began
The Adolescent Integrated Mental Health Pilot was launched as a partnership between Kaiser Permanente Washington and the ACT Center. Led by KPWHRI Assistant Investigator Gwen Lapham, PhD, MPH, MSW, a CATALyST Learning Health System Scholar, the pilot focused on expanding Kaiser Permanente Washington's program for adult integrated mental health care to members age 13 to 17. Dr. Lapham and her team realized from the start that integrated mental health was not a "one-size-fits-all" type of intervention. The collaboration with Dr. Hoopes grew out of this understanding that adolescents have different health care needs than adults, and mental health is no exception.
"Dr. Lapham invited me to join the project to support formative qualitative work with teens and their families, which included interviews and focus groups to understand how the program should look," said Dr. Hoopes. "Our goal was to center the voices of teens and parents. Adolescents have unique needs, and it was important to design a specific program for them."
Dr. Hoopes explained that most adolescents are screened and assessed for depression, suicidal ideation, and substance use as part of a routine schedule for preventive health care visits. But this approach to screening, which relies on a preventive care schedule, can fail to reach historically under-served populations who face barriers to routine preventive care. So the research team wanted to reach out to teens and parents who were broadly representative of diverse communities within Kaiser Permanente Washington to learn about their preferences, concerns, and challenges related to receiving mental health and substance use screening and care.
"My mission in life is to destigmatize adolescence and to help people understand the wisdom and empathy of youth," said Dr. Hoopes. "As an adolescent health services clinician and researcher, this project was very exciting for me because of the opportunity to take what we learned and directly apply it to improve care."
What the researchers found
The research team synthesized themes they heard from patients and families into 5 cross-cutting design principles that health systems can apply to adolescent mental health care: engagement, privacy, communication, choice, and ease.
They also recommended specific program goals and features health systems can implement, such as: training resources for provider teams about inclusive language and practices, handouts for adolescents and parents, standard workflows for collecting and documenting screening responses, and on-demand resources for additional assessments and treatment recommendations based on screening results.
Dr. Hoopes highlighted a few points that were especially important to teens and families:
For teens: Communication and connection were key, as was the role of privacy and confidentiality. Adolescents want to experience authentic rapport building with their care teams. They also emphasized their concerns about sharing sensitive substance use or mental health behaviors, their desire to take a role in decisions about their health care, and the importance of having easier access to care.

For families: Parents and caregivers want culturally inclusive and multilingual educational materials. They also want to support their child's autonomy but worry about not being fully informed. They expressed a desire for more direct interactions with providers and support in talking with their teens about mental health and substance use.
What are the next steps?
Dr. Lapham has already applied these design principles in the 3 Kaiser Permanente Washington medical centers that are part of the Adolescent Integrated Mental Health Pilot: Everett, Smokey Point, and Steele Street. Initial findings from this project have informed continuous feedback to the Kaiser Permanente Washington care teams working to build the integrated teen mental health workflow.
Dr. Lapham is also working on a new grant proposal that will evaluate implementation of integrated mental health care, including suicide prevention and confidential care, within adolescent primary care at Kaiser Permanente Washington. Since confidentiality was such a large theme for both teens and families, Dr. Hoopes is using her study's findings as the foundation for more focused work as a CATALyST Learning Health System Scholar. Her CATALyST project will examine confidential pathways to care for adolescents facilitated by the online patient portal.
"There's so much work that still needs to be done to meet the mental health needs of all teens," she explained. "We know from work in other areas of teen health that messaging and workflows need to be flexible and inclusive so that they resonate with people who have very different lived experiences. This study gave us specific ways to do that for teen mental health, centering the perspectives of real teens and families who are navigating our health system."
View the paper, "What Do Adolescents and Their Parents Need from Mental Health Integration in Primary Care? A Qualitative Exploration of Design Insights," on the journal website.
Dr. Hoopes' co-authors include KPWHRI researchers Susan Brandzel, MPH; Casey Luce, MSPH; Lisa Schulman, MSW; Paula Lozano, MD, MPH; and Gwen Lapham, PhD, MSW, MPH; and former KPWHRI researchers Dawn Ferguson, MS; and Blanca Chavez, MPH.