July 20, 2021
Practice facilitators: Boots on the ground for better care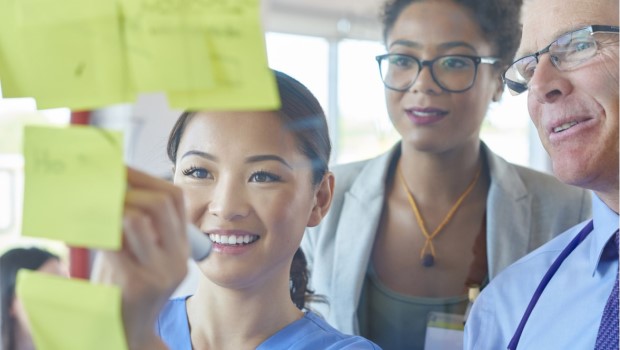 How LHS Program practice facilitators work with KP Washington care teams to improve care
By Paula Lozano, MD, MPH, senior investigator at Kaiser Permanente Washington Health Research Institute, associate medical director for research and translation at Kaiser Permanente Washington, and co-director of the organization's Learning Health System Program
A key part of being a learning health system is efficiently and effectively implementing evidence-based interventions and clinical process changes that improve care for patients. But changing clinical practice is hard — and busy care teams need support to achieve lasting improvements.
That's where practice facilitators come in. Also called "practice coaches," practice facilitators are the people with boots on the ground (in person, or virtually when circumstances demand) who collaborate with care teams as they design and implement new processes and interventions to improve patient care.
"As practice facilitators, we bring interdisciplinary clinic teams together and help them strategize how they can best improve their processes," says Jess Mogk, MPH, an implementation and evaluation associate at KPWHRI and a longtime practice facilitator for KP Washington's Learning Health System (LHS) Program. "I see the role as being a coach and problem solver. We're there to provide support, tools, and resources to care teams — and to find a way around any roadblocks that might stand in their way."
Here's an example: When care teams don't have easy access to relevant, up-to-date clinical data, it's much harder to effectively test specific changes to see what's working. So practice facilitators like Jess often collaborate with IT staff to develop data dashboards that provide real-time visual displays of the data that care teams find most helpful.
Navigating change with an eye toward spread and sustainment
Practice facilitators also help find solutions and document best practices that health systems can use to spread and sustain successful changes. Even before KP Washington launched its LHS Program in 2017, practice facilitators like KPWHRI Research Associate Amy Lee, MPH, were supporting KP Washington's research-funded efforts to spread integrated mental health care systemwide — work that was recently featured in the Canadian health care journal Healthy Debate.
Since then, practice facilitators like Jess and Amy have played an increasingly important role in the LHS Program's efforts to spread care innovations across KP Washington — innovations such as the Community Resource Specialist (CRS) role in primary care, which was integrated systemwide after its original launch as part of an externally funded research study.
These days, Jess has been busy leading practice facilitation efforts for the LHS Program's Integrated Pain Management (IPM) pilot. With LHS Program practice facilitators Claire Allen, MPH, and Kelsey Stefanik-Guizlo, MPH, Jess is working alongside IPM pilot clinics in KP Washington's Tahoma district to design and test a whole-person approach to chronic pain care before spreading the most successful elements of the intervention systemwide.
"The evidence from a wide variety of health systems suggests that practice facilitation can make the difference between a program that is the 'flavor-of-the-day' but then fades away, and one that leads to sustained improvement over time," says Claire, who oversees the LHS Program's practice facilitation program.
LHS Program's newest practice facilitators and their work to improve care for KP Washington members
As demand for practice facilitation has grown across the IPM Pilot and other LHS Program projects, we've been fortunate to have the opportunity to work with 3 expert practice facilitators from the Pacific Northwest region:
Ariel Singer, MPH, who is supporting KP Washington's initiative to implement universal social health screening. Ariel began her work as a practice facilitator in 2010, working with the Oregon Primary Care Association, which represents Oregon's community health centers. "I was lucky to have the Safety Net Medical Home Initiative as my first practice facilitation experience," she says. "And that introduced me to Katie Coleman, Dr. Ed Wagner, and other esteemed colleagues from KPWHRI's MacColl Center for Health Care Innovation."

Carolyn Brill, who is supporting KP Washington's 13-17 Integrated Mental Health (IMH) initiative, which is incorporating mental health care into primary care for adolescent members. Carolyn has been a practice facilitator with Comagine Health for 11 years and has extensive experience coaching primary care teams through process improvements related to Meaningful Use, clinical quality measures, and electronic health record (EHR) implementation.

Tara Kline, who is supporting the IPM pilot's spread to the Spokane district. Tara has been doing practice facilitation work for the past 6 years, and has been involved in quality improvement and process improvement for more than 15 years. "In my viewpoint, practice facilitation is quality improvement, process improvement, and collaborative learning, all rolled up into one role," she says.
Here's what Ariel, Carolyn, and Tara had to say about the practice facilitation work they're currently doing through KP Washington's LHS Program.
From your perspective, what are the key things practice facilitators do to support practice change?
TK: Our role is to facilitate an intervention or a clinical change by working with the people who have a role in the process being changed. We provide the framework to test iterative changes and ensure a change results in an improvement. We also help track down the tools and resources needed to keep the project moving efficiently, resulting in positive outcomes.
CB: Yes, it's all about supporting the clinical team to make sure each step in a process is accounted for and streamlined effectively. Practice facilitators help set project aims, solve problems, and measure progress. We also help augment communication and make sure all clinic team members are able to give their feedback in a safe environment.
AS: That's an important point. A key part of our job is to listen with empathy to the experiences and priorities of the practice — and to provide non-judgmental accountability and encouragement for sustaining the hard work of changing clinical care. We can also play a very important role in disseminating lessons learned between sites and connecting peers to learn from each other.
What has your daily work been focused on recently, and what do you find most exciting?
CB: For the 13-17 IMH initiative, I am getting weekly feedback from care teams on the clinical decision support tools and confidentiality handouts we developed for teens and their parents. We discuss clinical interactions from the previous week to identify what is working well and what isn't. The teams have a lot of good suggestions and ideas that we are testing for standardized solutions.
AS: Getting ideas directly from clinical teams is essential. Our recent social health work has focused on co-design sessions with care teams and KP Washington members. With their feedback, we're designing a workflow for universal social health screening before launching at our pilot clinics this month. We have also been collaborating with the KP Washington's incredible Health Connect team to refine the EHR-based social determinants of health tools to ensure they work well for care teams.
TK: As we launch the IPM pilot in KP Washington's Spokane district, my work has been focused on understanding chronic pain care through the lens of the local care teams, especially what is already working well and what barriers are present. I am digging into the details to understand the root cause of the barriers and how to modify the interventions to ensure they do not interfere with the processes that work well.
CB: Understanding what's working well and what's not is really important. It's exciting to have access to data and chart reviews so we can get insight as to how things are going in the clinic at a big-picture level. When I ask the team how they are doing with documentation, workflow, and handoffs, they don't always remember what happened last week. The chart review allows me to ask questions about specific visits and serves as a balancer for working together to identify what went well and what didn't.
AS: Although I have been working on care transformation for over a decade now, I still get very excited about collaborating with clinical teams in this way. I find the commitment and resourcefulness of the primary care workforce inspiring and am always energized by learning and sharing what works on the ground and hearing about the positive impact of our work on the patients we serve.