December 29, 2022
A call for stronger focus on health equity in learning health systems training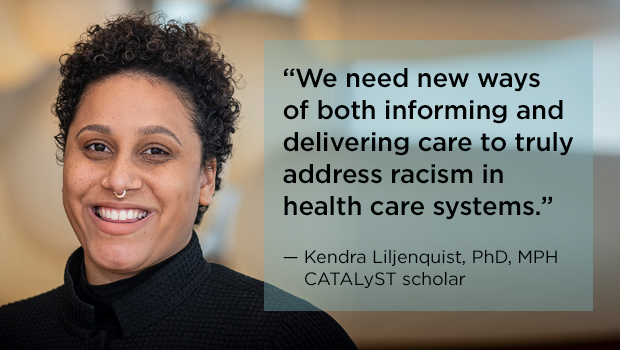 Early-career scientists provide attainable, thoughtful steps to a more equitable future
In a new paper, scholars (trainees) from Kaiser Permanente Washington Health Research Institute's CATALyST program call for integration of health equity into CATALyST and other learning health system (LHS) training programs. These programs train and mentor early-career scientists in the emerging field of LHS research — scientific inquiry embedded in health care systems.
The paper, published in a special issue of Learning Health Systems, is authored by 8 scholars and presents real-life case studies illustrating how to strengthen health equity in training systems and health care as a whole.
Areas for growth
Learning health systems use 7 identifiable core competencies to guide the training programs for LHS scholars. In the paper, the scholars recommend actions in 4 areas for LHS research training programs:
Integrate health equity into the current 7 LHS competencies
Develop training and mentoring in health equity
Establish program evaluation standards for consideration of health equity
Bring forth relevant, existing expertise from the areas of health disparities research, community-based participatory research, and community-engaged health services research
The paper examines challenges and provides individualized solutions from the scholars. The scholars see clear opportunities to integrate principles of health equity into LHS research and accompanying training opportunities.
This is personal
One of the authors is Kendra Liljenquist, PhD, MPH, who is assistant professor of pediatrics at the University of Washington School of Medicine.
Liljenquist pulled from her own experiences for the paper. Immersing health equity into LHSs of the future is how she can make an impact, something she acknowledges the scholars before her — many of them people of color — have already begun.
"I grew up facing equity issues and structural racism, and because of that I want to influence how health systems function," Liljenquist said. "Health systems have a unique opportunity to work with people throughout their entire lives, but right now our systems aren't structured to address many factors affecting health and wellbeing, such as food access or community safety, and instead can perpetuate structural racism built into health care delivery systems at their conception. It's important to remember that many of our guidelines and mechanisms were first initiated when refusal to give care was legal on the grounds of racism. It makes sense we need new ways of both informing and delivering care to truly address racism in health care systems."
Liljenquist said CATALyST supported the scholars, encouraging them to share their thoughts.
"I really appreciated how this program had given us the flexibility to reach out to different mentors from the perspective of health equity," she said. "We were all able to bring our different experiences to the forefront to highlight what areas of support we think are needed in future LHSs."
A call to action
The scholars concluded that making thoughtful and informed steps, such as considering the ethical aspects of working with historically excluded, underrepresented, and marginalized patient populations, can help adequately prepare early-career LHS researchers to effectively identify and address health inequities resulting in health disparities.
But equity is something everyone can integrate into their work — from those early in their careers to senior faculty — and the paper offers specific opportunities to center health equity and create a better future for all in the health care system.
"Equity is something that we will be continuing to work toward for a very long time," said Liljenquist. "The reality is, it will get tough at times, but being innovative is why we do the work we do. Keep strong and keep recognizing we cannot only make changes, but transformations."
The CATALyST K12 Learning Health System Scholar Program is a partnership of Kaiser Permanente Washington, the University of Washington, the Veterans Affairs Puget Sound Health Care System, and the Washington State University College of Medicine. CATALyST stands for Consortium for Applied Training to Advance the Learning health system with Scholars/Trainees.