Value Champions Training Curriculum
Ready to reduce overuse and harm?
Health care providers and health system leaders can use training tools and other resources from Taking Action on Overuse to train clinicians on how to start de-implementation projects and advance efforts to reduce medical overuse within their institutions. We call these agents of de-implementation "value champions."
The 2 complementary training tools we created are rich with case studies, lessons learned, quotes, and resources from across many safety net settings and are designed to emulate the learning process of laboratory courses:
The Value Champions Training Curriculum explains the theory behind becoming a value champion and was designed for individuals or groups who wish to acquire the knowledge and skills to train or become effective clinical value champions. This syllabus consists of 10 learning modules covering essential concepts and topics foundational to being an effective clinical value champion. The curriculum is available as a digital course on Kaiser Permanente Scholar (linked above) or as a PDF.
The Value Champion Project Workbook provides value champions with a step-by-step guide through their overuse reduction projects. The interactive workbook PDF includes overviews of the phases of a project, milestones to plan for, sample to-do lists, journaling questions, and recommended tools and resources. These pieces will help you prioritize equity, stay on track, address challenges, evaluate the project, and plan for sustainability.
We are excited to share these tools with broader audiences and continue supporting de-implementation projects across the safety net and beyond to improve care and increase health equity for all.
Taking Action on Overuse

Featured news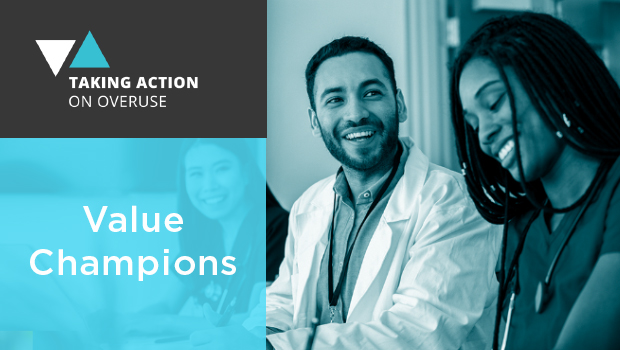 ACT Center launches online training to help clinicians identify and curb overused services in clinical practice