June 13, 2022
Miller Fund inspires clinical innovation in residency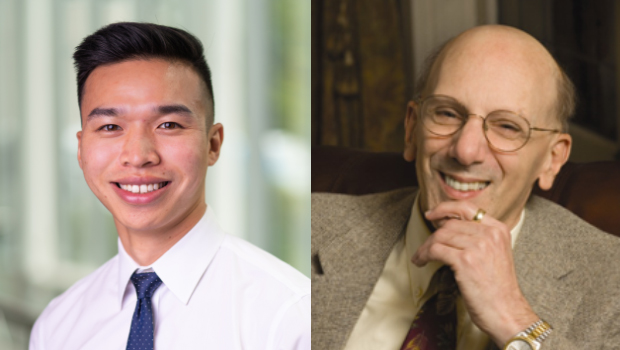 Justin Fu, MD, Family Medicine Resident at Kaiser Permanente Washington and Don Miller, MD, Chief of Nephrology at Kaiser Permanente Washington (then Group Health) from 1986 to 2004
KP Washington family medicine residents test new ideas for improving care while honoring the legacy of Dr. Don Miller
By Kelsey Stefanik-Guizlo, MPH, a collaborative scientist with the Center for Accelerating Care Transformation (ACT Center) at Kaiser Permanente Washington Health Research institute (KPWHRI), and Katie Coleman, MSPH, ACT Center director and director of Collaborative Science at KPWHRI
The Center for Accelerating Care Transformation (ACT Center) is proud to be the steward of several endowment funds, including the Donald G. Miller, MD, Endowed Fund for Clinical Innovation. The Miller Fund was established to promote clinical innovation in the delivery of excellent health care, encourage and promote innovative thinking among physicians, and assist in the implementation of these innovations.
In 2021, to advance the mission of the Miller Fund, the ACT Center established a partnership with the Kaiser Permanente Washington Family Medicine Residency Program. The cornerstone of the partnership is up to $7,500 per year in support from the Miller Fund for residents to conduct applied projects focused on quality improvement and care delivery innovation. Given the energy and creativity residents bring to Kaiser Permanente Washington and the fact that they are the future leaders of health care, it made sense to partner with them on testing new ideas for how to improve care.
"My brother Don was a strong believer in providing high-quality care and always went 'above and beyond' for his patients," said Barbara Miller, Dr. Miller's sister. "Supporting projects focused on quality improvement would align with his belief systems. He was constantly innovating to improve efficiency and quality in systems and processes."
---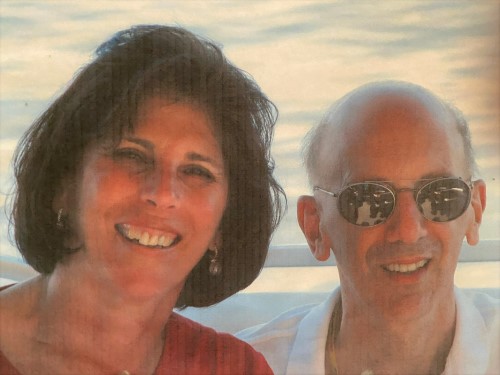 Barbara Miller and Dr. Don Miller
---
Sparking innovation in the next generation
Donald Miller, MD, served as a staff physician and then chief of Nephrology at Kaiser Permanente Washington (then Group Health) from 1986 to 2004. Dr. Miller believed in evidence-based medicine and continuous improvement through clinical innovation, and he was recognized for his leadership in these areas through several prestigious awards.
We were proud to honor his legacy in a meaningful way last year by funding the first project in our ongoing partnership with the residency program at Kaiser Permanente Washington. Led by second-year Family Medicine Resident Justin Fu, MD, the project focused on improving colorectal cancer screening rates among Black members.
Dr. Fu noticed there was a significant difference in rates of colon cancer screening among patients at his clinic, with lower screening rates in Black patients compared to white patients. To understand effective outreach strategies for addressing this disparity, he conducted 2 Plan-Do-Study-Act (PDSA) cycles.
The first cycle looked at whether sending tailored postcards alone impacted return rates for home-based tests used for colon cancer screening (called "FIT kits").
The second cycle compared return rates between a standard outreach letter vs. the letter with a tailored postcard.
In the first cycle, Dr. Fu observed that sending tailored outreach postcards significantly increased FIT kit returns and effectively reduced the screening rate disparity among Black patients. In the second cycle, however, there was no difference in FIT kit returns based on whether the patients received a standard letter or the letter plus a tailored postcard.
Based on his findings, Dr. Fu believes that the tailored postcards are not necessarily superior to the standard outreach letters that patients receive, but what is important is that patients get informed about home-based FIT kits. His work influenced the way centralized FIT outreach is expanded at Kaiser Permanente Washington, and he hopes the organization will continue to ensure that colon cancer screening outreach is done in an equitable way that reduces health disparities among our members.
"This project would not have been possible without the support from the ACT Center and the Miller Fund," said Dr. Fu. "Their support allowed the postcards to be printed, folded, and shipped expediently to patients who were due for colon cancer screening. This project underscored the importance of health equity in my residency training and how to carry that work in my future career as a practicing physician."
What's next?
The ACT Center team is excited to continue building on this partnership with the Kaiser Permanente Washington Family Medicine Residency Program and has made a multi-year commitment to support the residency's quality improvement activities through the Miller Fund.
Next year, the residency program plans to start 1-2 new quality improvement projects in different areas. Over time, the program looks forward to developing new project opportunities for residents — including some projects that continue year-over-year and others that are more time limited, depending on the interest and expertise of each residency class.
Along the way, we are learning a lot from consulting with residents like Dr. Fu who have ideas about innovative ways to improve care — as well as from the program's leaders, including Katie Paul, MD, MPH, Clinical Lead of Knowledge and Education at Kaiser Permanente Washington and a faculty member in the residency program.
"Support from the ACT Center and the Miller Fund is helping to make quality improvement part of the culture of training our family medicine residents from day 1 of residency," said Dr. Paul. "They will bring the quality improvement skills they have learned to their future careers."
"I believe that it is vital to provide this assistance to the residency program because those are the years in which future physicians are molded," added Ms. Miller. "To have the opportunity early on to help residents get involved in quality improvement and innovation will have a long-term, positive impact on patient care."
---