December 20, 2018
Why does Cara Lewis study implementation science?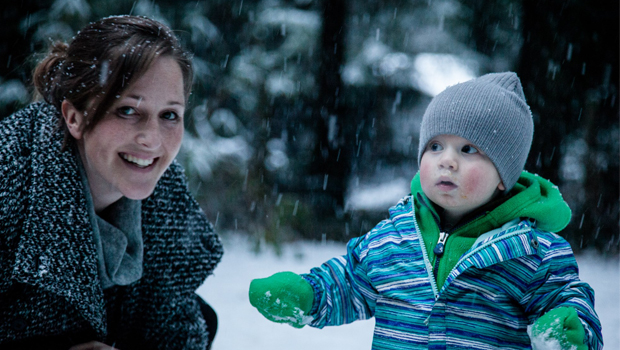 We profile the KPWHRI associate investigator, a clinical psychologist who also studies social factors that affect health.
We spoke with Cara C. Lewis, PhD, an associate investigator at Kaiser Permanente Washington Health Research Institute (KPWHRI)'s MacColl Center for Health Care Innovation and affiliate faculty of psychiatry and behavioral sciences at the University of Washington School of Medicine. Dr. Lewis is also a Beck Scholar, past-president of the Society for Implementation Research Collaboration (SIRC), and co-founding editor-in-chief of the forthcoming SIRC journal.
What motivates you to do your work in implementation science?
What bothers us is often what motivates us to do things. And what bothers me most is that there are effective scientific products of taxpayer-supported research that often do not inform the care that people (taxpayers) receive. I'm excited that there's a science now that's devoted to ensuring that our research efforts have the intended impact on people in need: implementation science. That means studying how to ensure that evidence-based interventions are integrated into routine care to improve the quality and effectiveness of care for those in need.
Clinical research is often thought of as a pipeline, starting with bench or basic science, intervention development, then efficacy and effectiveness trials. And then, at the farthest end of the pipeline, implementation research in the community. Unlike other types of research along the clinical translational science continuum, implementation efforts must live outside of a research infrastructure. In my work, we strive to bring research resources to evaluate implementation, but not to build it. Otherwise, interventions won't scale.
I have largely focused on improving mental and behavioral health care by integrating evidence-based practices such as cognitive behavioral therapy (CBT) into community settings. We're making progress, but we have room for improvement, as my new paper in JAMA Psychiatry describes. Written with a dozen far-flung colleagues, the title is "Implementing Measurement-Based Care in Behavioral Health: A Review." We discuss how to advance the integration of measurement-based care into behavioral health treatment, with patients filling out questionnaires and discussing them with their providers at each visit, as is standard practice at Kaiser Permanente Washington.
What first got you interested in implementation science?
When I began graduate school for clinical psychology in 2005–2007, I was excited to get to work on the largest randomized controlled trial comparing pharmacotherapy, placebo, and CBT, alone and together, for adolescent depression. CBT worked for many youth in the trial. But it was largely unavailable outside of research trials then. Even now, although many psychologists say they provide it, CBT as it was designed to be delivered—with agenda-setting and homework—is disappointingly rare.
The first journal of implementation science came to be in 2006 and it seemed to promise a solution to bringing evidence-based care into practice. So I decided to focus my comprehensive exams on implementation science, even though no one at my university, including my mentor, was expert in this type of work. I fortunately found myself able to become immersed in and grow up with this field over the last decade.
---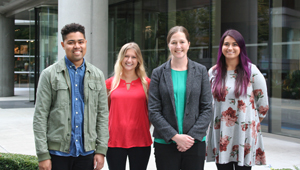 Kayne Mettert, Caitlin Dorsey, Lewis, and Elena Navarro (L-R) all moved together to work at KPWHRI in Seattle from Indiana University in Bloomington.
---
Which project has excited you most?
My work with Wolverine Human Services, residential treatment centers housing teens throughout Michigan. It was the first time, to my knowledge, that frontline staff with a high school education were trained to deliver CBT with fidelity.
Through our five years of systematic, tailored implementation, with the Beck Institute for Cognitive Behavior Therapy, Wolverine Human Services was transformed. They have trained most of the staff in CBT and embedded an endorsement system and onsite coaches to ensure the program is sustainable. Now they are exemplary.
What makes Kaiser Permanente a good place to do implementation science?
Kaiser Permanente, as an organization, is consistently leading the field at the cutting edge. They are willing to invest in the implementation of evidence-based care. For instance, with incredible support from the research institute, Kaiser Permanente Washington recently integrated behavioral health into primary care.
Being embedded in a delivery system affords the opportunity to contribute to the science and practice of implementation. Partnering with Kaiser Permanente Washington has afforded me a much better sense of the realities of health care: the context, limitations, dynamics, and requirements.
Kaiser Permanente has opened up a world of possibilities. For instance, I'm having the fortunate opportunity of leading a robust implementation evaluation of the spread of community resource specialists to all 26 primary care clinics in our region. This new role is integrated into primary care and connects patients with community resources. We'll evaluate the role's impact on patients' experience and care teams' ability to work at the top of their license.
Kaiser Permanente invests in treating and caring for the whole person and their community. Very few organizations have that vision—and the infrastructure to support the work that isn't part of typical health care. One example is the Kaiser Permanente's Social Needs Network for Evaluation and Translation (SONNET) group, whose steering committee I serve on. We're bringing experts together and supporting them to think about how best to address social risk, build capacity, and conduct pragmatic evaluations.
I am a methodologist who wishes to advance the implementation of evidence-based practices, in general. I am excited to work beyond studying behavioral health and social needs. For instance, I recently worked with the Centers for Disease Control and Prevention on how implementation science can contribute to responses to disease outbreaks—as well as maternal and child health.
---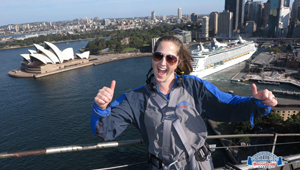 Lewis, with Sydney Opera House in background, after keynoting the Global Evidence and Implementation Summit 2018 in Melbourne and Macquarie University's Early Career Researcher Symposium in Sydney, Australia.
---
What keeps you going outside of work?
What I do most outside of work is to spend time with my 2-year-old son River. I'm an avid cyclist. I love to bike to work and bike River to school, the grocery store, you name it.
Our family is very musical, and we play music every day. I like to sing—but don't ask me to. River and my husband Eric Parchen Lewis, who is a teacher and a musician, play all the things: We have five guitars (including River's guitalele), a piano, drums, and many other instruments. We don't watch TV shows as a family; we watch live music videos together.
I'm proud to say River now requests Pearl Jam, a rock band that was born in Seattle and recently raised $12 million to address the severe homelessness problem in our local communities. I have family nearby in British Columbia, where I was born and raised—and those are two more reasons why Seattle is a great place for us to be.