August 31, 2020
Finding evidence to drive COVID-era decisions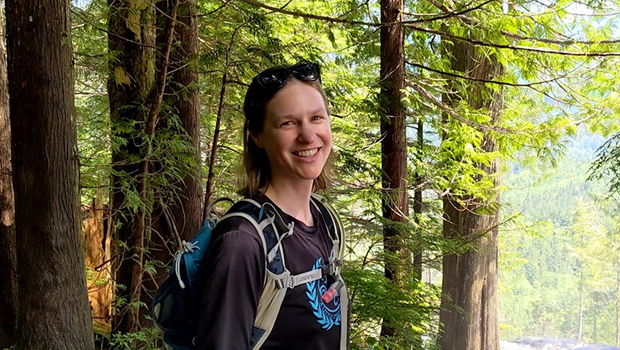 Paula Blasi on a recent hike.
How Paula Blasi brings research findings to light to support Kaiser Permanente's rapid response to COVID-19
Many people are working behind the scenes to respond to the COVID-19 pandemic, including Paula Blasi, MPH, a research associate at Kaiser Permanente Washington Health Research Institute (KPWHRI) and a longtime partner in Kaiser Permanente Washington's Learning Health System (LHS) Program. With support from the LHS Program, Paula has been doing daily literature scans since the onset of COVID-19—helping Kaiser Permanente leaders stay up to date on the latest evidence so they can make timely, informed decisions that keep our members safe and healthy. We talked with Paula about her work and how it supports Kaiser Permanente's rapid response to COVID-19 in Washington and nationally.
Can you tell me about the work you're doing related to COVID-19 and how you became involved?
My involvement evolved over time. I started by doing systematic reviews with Jennifer Lin MD, MCR, who leads the Kaiser Permanente Evidence-based Practice Center (EPC), which is headquartered at Kaiser Permanente Northwest Center for Health Research in Portland. Along with 8 other EPCs nationally, Jennifer's group synthesizes evidence on health care topics to inform key decisions by health care stakeholders.
At the beginning of the pandemic, people doing evidence reviews across Kaiser Permanente came together to stay up to date on COVID-19 research. I started helping Jennifer with a literature scanning effort to help KP National develop a health care utilization model to ensure our facilities could handle a surge in patients.
To build that model, KP needed a range of variables. For example: What percentage of people are likely to get infected? Of those who are symptomatic, what percentage are likely to be hospitalized? Of those who are hospitalized, what percentage are likely to need ICU care, and how long will they be in the ICU?
These variables needed to be as up to date as possible since things were changing so quickly. Every day we scanned the COVID-19 research literature to find new evidence. At first we were finding data from China and Europe, but eventually we started getting U.S. data more relevant to our population. After the project leaders had the variables they needed, they were able to build their model.
What other topics around COVID-19 have you been asked to review?
As the pandemic unfolded, we shifted to conducting quick scans of COVID-19 research literature in response to requests from KP National. For example, one KP team wanted to learn how COVID-19 might impact all-cause mortality, which includes deaths caused by reasons other than COVID-19. These excess deaths might result from people being too nervous to go to the emergency room when they're having a mild heart attack or stroke, or from people putting off preventive care or important procedures.
Another KP team was designing an intervention to help COVID-19-positive members protect the people they live with. This team wanted to know: What is the likelihood of infecting another member of the household? What interventions have already been tested for reducing household transmission of respiratory viruses?
So I scanned the COVID-19 research literature for relevant studies, identified key learnings, and passed the information along so the team could get the data they needed to design a household suppression kit.
Have you been doing reviews for KP Washington specifically?
Yes. I'm working with a small team of KPWHRI senior researchers to put together a regular scientific briefing about COVID-19 treatments and vaccines for Susan Mullaney, president of Kaiser Permanente Washington, Dr. Paul Minardi, Washington Permanente Medical Group president, and other KP Washington leaders.
I spend 2 hours each day scanning peer-reviewed research articles and not-yet-peer-reviewed preprints to find the most notable studies related to COVID-19 treatments and vaccines. KPWHRI senior researchers provide a scientific review of these articles, which I compile into summary materials for Susan and other KP leaders. During the briefing, we review the materials and dig into the key points of each study.
How do you stay engaged in the work?
This work feels important and meaningful, and that's very motivating. I also love the opportunity to learn from the researchers conducting these scientific reviews. I'm learning more about the strengths and limitations of different study designs, and I'm starting to review research findings with a more critical eye.
I also appreciate the connections I've made across KP. Since I'm scanning the literature every day, I often come across articles related to different KP projects on COVID-19. When this happens, I send the article and a few key points to the relevant team, so they can have an ongoing supply of evidence. It has been amazing to see such a strong commitment across KP to use research evidence to benefit our members and communities.