May 31, 2019
6 Value Champions begin tackling medical overuse in the safety net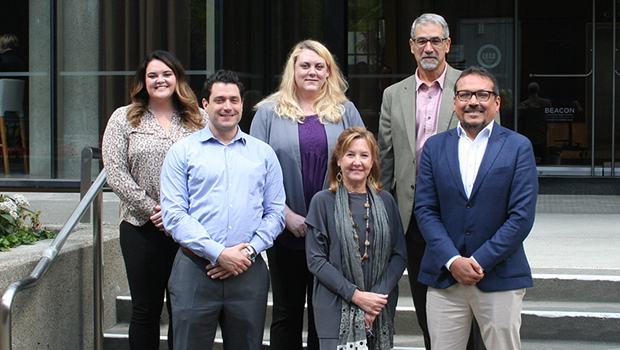 L-R: Elizabeth Vossenkemper, Josh Moskovitz, Leslie Dunlap, Lauren D. Demosthenes, George Hoke, Roberto Diaz Del Carpo
New training and mentorship program supports clinicians in doing less of what harms and more of what helps vulnerable patients
The MacColl Center for Health Care Innovation is proud to announce the launch of the Robert Wood Johnson Foundation (RWJF) Safety Net Value Champions Fellowship and the selection of six clinical providers from across the United States as fellows, including a New York City emergency room physician, a Washington State pediatric nurse practitioner, and a New Mexico physician assistant.
The new "Value Champions," who serve medically vulnerable patients in a diverse array of safety net settings, have just started their culture, organizational, and behavior change efforts to reduce medical overuse in their home institutions. The fellows convened for the first time earlier this month in Seattle, to meet one another and start the unique curriculum designed by program faculty, program mentors, and the MacColl team.
Medical overuse (or low-value care) is widespread, and includes unnecessary diagnostic tests, treatments, and hospitalizations. Unnecessary services can drive up costs and, most importantly, cause physical, emotional and/or financial harm to patients. Reducing overuse is a long-term proposition that requires new approaches to what were once standard ways of delivering care. And overuse reduction is a team-based sport that can involve all clinic staff.
"We selected fellows based on their potential to be extraordinary change agents," said Michael Parchman, MD, MPH, who is principal investigator of the Taking Action on Overuse program and a MacColl Center senior investigator. "We are thrilled to support individuals with a variety of clinical backgrounds, not just physicians, as fellows because we believe in the power of team-based care."
The 2019 Safety Net Value Champions are:
Reducing low-value care requires cultivation of an environment where change feels safe, possible, and supported at every level of an organization. The Safety Net Value Champions will help build cultures where clinical teams can take ownership for reducing overuse —for all populations, and with special emphasis on those with fewer resources to access care.
While overuse happens just as often in other settings as in the safety net, underserved populations are at greater risk of harm. Social determinants of health, such as education, levels of employment and income, childhood experiences, and environment, can prevent access to health care or negatively impact care quality. The potential for negative financial, physical, and emotional impacts from overused services increases for patients that receive care within the safety net.
The nine-month Safety Net Value Champions Fellowship offers training based on the MacColl Center's Taking Action on Overuse framework—a roadmap for action and behavior change that leads to reductions in medical overuse—and what the MacColl team has learned so far from implementing it since its publication in December 2017. The fellowship curriculum also includes in-person meetings, monthly webinars, and one-on-one mentoring by faculty as fellows implement projects in their home institutions.
Fellowship faculty include practicing physicians, psychologists, academic professors, and program administrators. They all have strong backgrounds in quality improvement, health systems and health equity to help guide and support the fellows as they work within their home institutions.
"This work is often much more challenging than traditional quality improvement," said Parchman. "We're really excited to find new ways to improve care in the safety net with this group."
The fellowship was designed by the MacColl Center for Health Care Innovation and made possible by support from RWJF. Founded in 1983, the MacColl Center supports the transformation of health care delivery through original research, model development, and technical assistance. It is part of the Kaiser Permanente Washington Health Research Institute in Seattle.

By Dona Cutsogeorge